MORE ABOUT THE KAT WALK C
KAT Walk C is the world's first gamer-dedicated, personal VR Omni-Directional Treadmill (ODT) – A new generation mechanical device that allows for 360 degrees of human motion, creating infinite movement area in VR on minimum physical space in reality. Our new device is the most innovative VR walking solution suitable for home use and affordable for individuals.
What makes the KAT Walk C unique?
The KAT Walk C is the only VR omni-directional treadmill on the market that has been designed entirely for personal use and optimized for maximum gaming experience. With the needs of gamers in mind, we have created the ultimate VR locomotion solution that deepens the immersion, reduces the motion sickness, and allows for infinite and unrestricted actions in VR based on a highly-natural simulative gait.
What makes it really unique is the combination of features that make the above possible for a consumer-friendly price. All of that without any compromises on the performance and the user-experience:
Highly-natural simulative gait
Walk, run and even sprint naturally in the virtual worlds – with KAT Walk C there are no limitations! Our walking platform has been optimized to support the complete walking cycle!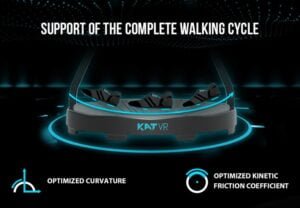 Friction-adaptive shoes
Adapt the KAT Walk C to your own needs and preferences – Our dedicated shoes offer 4 adjustable levels of friction making the product offer the ultimate experience to everyone! Light-weight precision sensors track every foot movement.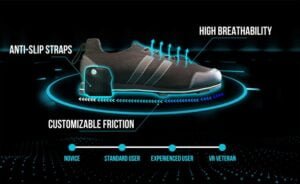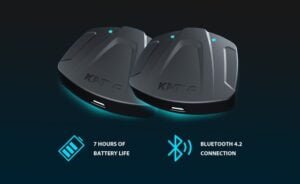 The highest level of freedom in motion
Carry out a variety of vertical and horizontal movements. Crouch, hide, sneak, pick items up and much more. The KAT Walk C allows you to carry out any actions you might need in your virtual adventures!
Compact and Home-Optimized
The KAT Walk C is the most compact VR omni-directional treadmill up to date! The walking platform requires only 0.69㎡ (7.43 square feet), making it a perfect addition to your space-limited gaming cave!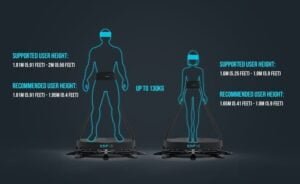 Universal SteamVR and PSVR support
With the KAT Walk C you can play any SteamVR and PSVR (additional adapter required) free locomotion games. Try it in Skyrim, Half Life: Alyx, Boneworks or your other favorite games!
Universal HMD support
Use the KAT Walk C with your own headset! Our device supports all the most popular models such as Oculus Rift, Rift-S, Quest and Quest 2 (Link), Valve Index, HTC VIVE, HTC VIVE Pro, Windows Mixed Reality Headsets, PSVR (Requires PSVR Adaptor), Pimax and much more!